Caramelized Endive with Browned Butter Sage Sauce from All Day I Dream About Food This post is sponsored by Discover Endive. All opinions expressed are 100% mine.
Well, a beloved project is coming to a close and I wanted to mark the occasion somehow. I have truly enjoyed being a part of the OnDiva campaign and have learned so much along the way. When I received my first shipment of California Endive back in December, I honestly don't know that I'd ever even tried it. And now I have come to appreciate this versatile and healthful vegetable, and I will certainly continue making it a regular part of my diet.  I've also enjoyed working with my fellow OnDivas, and I wanted to take a moment to highlight all of the recipes we've come up with over the past 6 months, as well as a few other delectable ways to serve endive.  With all of this right at hand, you have NO excuse not to try it yourself!  I have even included my own low-carb, gluten free version of Endive En Jambon (Endive Au Gratin) as a bonus recipe.  I gave it a go a few weeks ago, replacing the flour with arrowroot starch to thicken the sauce, and it worked beautifully (scroll to bottom for this recipe).

Giveaway:
In addition, I am thrilled to be hosting a California Endive giveaway.  The winner will receive 1 shipment of California Endive (this is quite a lot and will keep for a while when properly refrigerated), a Discover Endive Dip Tray, and a copy of the cookbook Ripe: A Fresh Colorful Approach To Fruits And Vegetables (Cheryl Sternman Rule and Paulette Phlipot).
To Enter:
1.  This giveaway is open to residents of the lower 48 states only.
2.  Contest will run until Monday, June 4th at midnight EST.
2.  Please leave a comment below.
3.  For additional entries…(leave a separate comment for each)
Endive Round-Up
Other Great Endive Recipes:
Ham and Cheese Endive Nachos from La Fuji Mama
Endive, Kale and Smoked Salmon Salad from Healthy Green Kitchen
French Onion and Endive Soup with Pancetta from Cookin' Canuck
Ricotta and Endive Appetizer from Bell'Alimento
Endive with Smoked Salmon and Boursin from All Day I Dream About Food
Turkey Meatball and Endive Coconut Curry from La Fuji Mama
Rice Noodle Salad with Endive, Shrimp and Soy Ginger Dressing from Cookin' Canuck
Endive and Satsuma Manderin Salad from Healthy Green Kitchen
Turkey Taco Endive Boats from All Day I Dream About Food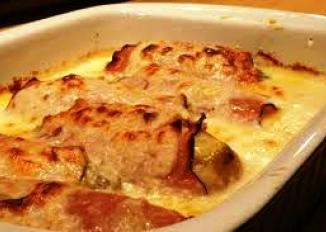 Photo Credit:  Discover Endive
Endive En Jambon (Endive Au Gratin) – adapted from Discover Endive to be low carb and gluten free
6 heads California Endive
6 slices black forest ham
2 tablespoon butter
2 cloves garlic, minced
1 cup half and half
1 tablespoon arrowroot starch
1 cup shredded Gruyere cheese, divided
¼ teaspoon ground nutmeg
Salt and pepper to taste
Grease a glass or ceramic baking dish and bring a large saucepan of water to a boil.  Place endive in boiling water and cook until just tender, about 5 minutes.  Drain in colander and squeeze each head of endive gently to remove extra moisture. Wrap each head of endive in a slice of ham and place in prepared baking dish.
In medium saucepan over medium heat, cook butter until browned, 3 to 4 minutes.  Stir in garlic and cook until fragrant, 30 seconds.  Whisk arrowroot starch into milk and add to saucepan, cooking until thickened, another 3 to 4 minutes.  Stir in ¾ cup Gruyere, the nutmeg, salt and pepper and stir until cheese is melted.
Preheat broiler to high.  Pour sauce evenly over endives and sprinkle with remaining Gruyere.  Place under broiler about 3 to 4 inches away from heat source and cook until sauce bubbles and cheese is browned, about 10 minutes.  Serve hot.
Serves 6 (as a side dish).  Each serving has 20.7 g of carbs and 16 g of fiber.  Total NET CARBS = 4.7 g.