This is a Sponsored post written by me on behalf of Avocados from Mexico. All opinions are 100% mine.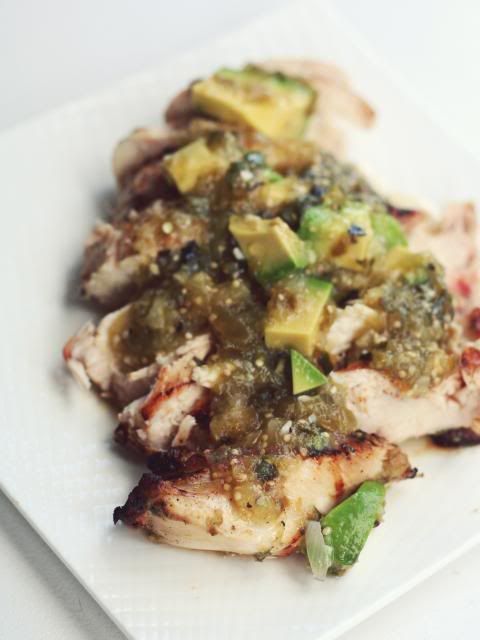 You know, I usually have a healthy respect for differences in taste and opinion.  I may think you're wrong or misinformed, but I generally respect your right to be wrong or misinformed.  But if you tell me you don't like avocados, then we are going to have a problem.  Because I have tried to wrap my head around that one, tried to understand that tastes differ, but it is beyond my ken that someone could not love avocados.  We adore them in our house, and where they used to be an occasional treat item, they have now become a full-on pantry staple.
With that intro, I am sure you can imagine my response when Avocados of Mexico asked me to host a party to showcase their partnership with Rick Bayless.  The challenge was simple:  host a barbecue with 10 to 20 friends and serve up one of the new avocado recipes developed by Rick.  And then to challenge my readers to BBQ Like Rick Bayless and enter to win great prizes like a trip to Chicago and dinner at Fontera Grill (
The Avocados From Mexico BBQ like Rick Bayless! Sweeps
).  In my excitement, I might have thrown out the invite to a few too many people, as we ended up with quite a houseful of adults and kids.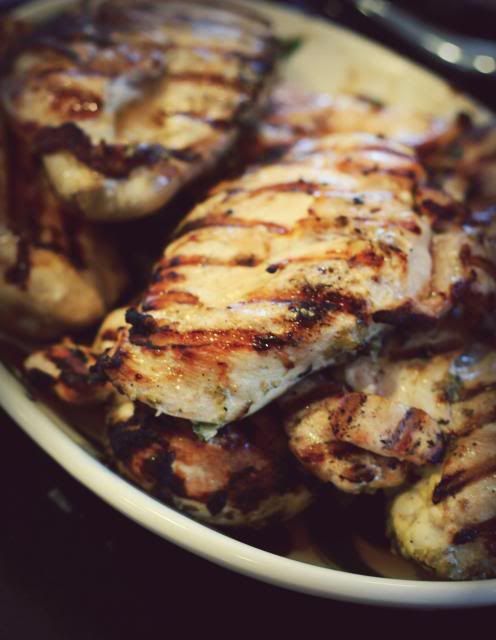 But it was so much fun and the Grilled Chicken with Roasted Tomatillo Avocado Sauce was truly delicious.  It was also easy to do most of the prep ahead of time, giving us plenty of time to chat with our friends (and chase after all the kids!).   Now to be honest, the chicken was a little too spicy for most of the kids, so except for one brave young man (I see a budding foodie in that child!) they had hot dogs.  Which left more of the chicken and sauce for the rest of us.  All the adults gave the recipe rave reviews.
And I made a double batch of the Roasted Tomatillo Salsa, which we served up with some homemade guacamole.  It was a regular Avocado Party.  Avocados and Rick Bayless recipes…what a great excuse to have a party!
Check out the Rick Bayless recipes with Avocados from Mexico, because they're definitely great for summer entertaining.
Try one of his recipes and you can enter to win some great prizes in the The Avocados From Mexico BBQ like Rick Bayless! Sweeps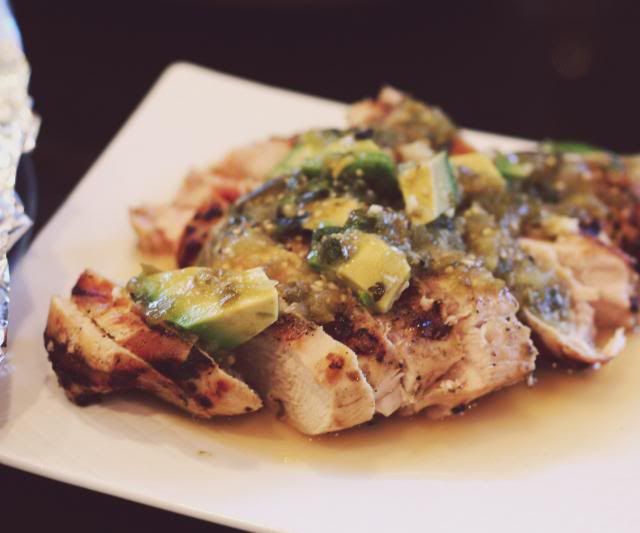 Grilled Chicken with Tomatillo Avocado Sauce
1 jar (16-ounces) Frontera Tomatillo Salsa or 2 cups Roasted Tomatillo Salsa (recipe follows)
2 tablespoons olive oil, divided
4 boneless, skinless chicken breast halves, each pounded to about 1-inch thick
1/3 cup chicken broth
1 avocado from Mexico, halved, pitted, peeled and diced
1/4 teaspoon salt Chopped fresh cilantro, for garnish
In a baking dish, mix together 1/4 cup of the salsa with 1 tablespoon of the oil. Add the chicken and turn to coat. Cover and refrigerate for 2-3 hours, if time permits.
Prepare a charcoal grill or heat a gas grill to medium-hot. In a large skillet, heat the remaining 1 tablespoon of oil. Add the remaining salsa; stir 5 minutes to concentrate slightly. Add broth; boil gently until thick enough to coat a spoon, about 10 minutes. Remove from heat; add avocado.
Remove chicken from marinade; sprinkle with salt; grill 8 inches from medium-hot coals, turning once, until seared and cooked through, about 8 minutes. To serve, spoon sauce onto 4 plates; top with chicken; garnish with cilantro.
Yield: 4 portions
Roasted Tomatillo Salsa
1 pound tomatillos, husked and rinsed
4 to 5 serrano chiles, stemmed
1 small white onion, sliced 1/4-inch thick (about 4 ounces)
3 garlic cloves, peeled
1/2 cup chopped fresh cilantro, loosely packed
1 teaspoon salt
1 teaspoon sugar, optional
Heat broiler. On a foil-lined baking sheet, lay tomatillos and chiles. Set sheet 4 inches below broiler; roast until tomatillos are soft and black in spots, about 5 minutes. Turn tomatillos and chiles; roast 5 more minutes; set aside to cool.
Set oven to 425⁰F. Separate onion into rings. On a baking sheet, combine onion rings with garlic. Bake, stirring frequently, until onions are roasted and garlic feels soft and brown in spots, about 15 minutes. Cool.
In a food processor, pulse the chiles, onions and garlic until finely chopped; remove to a large bowl. To food processor, add tomatillos; coarsely puree; add to bowl. Stir in water, cilantro and salt. Add sugar to soften the tartness of the tomatillos, if desired. Serve immediately or refrigerate for up to 5 days.
Yield: about 2 cups