Americans come up with best names for their sweets and treats. Think about it. Snickerdoodles. Ding Dongs. Whoopie Pies. Let's face it, those words are as much fun to say as the food is to eat. Although I've never had a ding dong and I am not about to start now. And the first time I had a whoopie pie, I didn't think all that much of it. In fact, I found the name far more appealing than the actual food. That may have more to do with the company that was catering our annual retreat than with whoopie pies in general, but being an ignorant Canuck, I wrote whoopie pies off as rather uninteresting. Ho hum, cakey chocolate cookies with flavourless vanilla cream in the middle. Then I became a food blogger and discovered a vast world of interesting whoopie pie flavours, and I realized that they might have some street cred after all. Coming up with a low carb, gluten free whoopie pie has been on my to-do list for a long time, and being invited to be a part of Creative a Festive Fourth With Wilton Giveaway was just the motivation I needed.

Let me tell you a little about this awesome giveaway. Because it's awesome. It's awesomer than awesome. First of all, you have a chance to win the Star Whoopie Pie Pan that I made these with. You will also win the Non-stick Stackable Cooling Grid, an Icing Smoother, Patriotic Sprinkle Mix and Disposable Decorating bags. You can see the kit and kaboodle in the image below. But that's not all. There are four other bloggers doing similar giveaways, each with a specialized Wilton baking pan. You can enter each of our giveaways for five chances to win.
If you are serious about your baking, chances are you already own some Wilton bakeware. I have to say that it's my favourite by far. I always regret it when I've bought a cheaper pan that isn't as non-stick or browns my baked goods too quickly (or not quickly enough!). Any time I need to replace a pan now, I buy Wilton. And I am only just barely getting into cookie and cake-decorating, but they do have the best accessories. I just might have a bit of an addiction to pretty cupcake liners and piping tips. And my addiction is mild compared to some bakers I know!
As for the Whoopie Pies I made, well you can see for yourself that I can't really call them red, white and blue. Turns out that true blue is REALLY hard to achieve when you are working with almond flour batter. But I love them anyway. The dusty teal and muted red remind me of nothing so much as what you might see on old wooden Americana artifacts. To me it brings up images of the Stars and Stripes painted on wood and then faded by years in the sun. And I can foresee many uses for the Star Whoopie Pie Pan. I've already promised my kids to bake up some star-shaped brownies in it!
The colours might not be as patriotic as I would like, but the flavour and texture of these whoopie pies is spot on. Technically, I suppose these would be Red Velvet Whoopies, as I added a bit of cocoa powder to the mix to keep the colour from being too luridly red or blue. And the frosting is cream-cheese based and holds up well to the cake. These were a huge hit with my kids, both in appearance and in taste. And they sure were fun to make!
The Giveaway CLOSED
Red, White and Blue Whoopie Pies (Low Carb and Gluten-Free)
Soft, cake-like red and blue chocolate cookies filled with rich cream cheese frosting. A sweet low carb treat to celebrate the fourth of July!
Print
Pin
Rate
Servings:
12
whoopie pies
Ingredients
Cake:
2

cups

almond flour

3

tablespoon

unflavoured whey protein powder

2

tablespoon

cocoa powder

2

teaspoon

baking powder

½

teaspoon

baking soda

¼

teaspoon

salt

6

tablespoon

butter

softened

½

cup

granulated Swerve

(or other erythritol)

2

large eggs

room temperature

½

teaspoon

vanilla extract

20

drops stevia extract

⅓

cup

unsweetened almond milk

⅛

teaspoon

red gel colouring

⅛

teaspoon

blue gel colouring
Frosting:
4

oz

cream cheese

softened

2

tablespoon

butter

softened

3

tablespoon

powdered Swerve

(or other powdered erythritol)

½

teaspoon

vanilla extract

10

drops stevia extract
Instructions
For the cake:
Preheat oven to 325 and butter holes of star-shaped whoopie pie tin (or any whoopie pie tin).

In a medium bowl, whisk together almond flour, protein powder, cocoa powder, baking powder, baking soda and salt. Set aside.

In a large bowl, beat butter until smooth. Add granulated Swerve and beat until lighter and well-combined, about 2 minutes. Beat in eggs, one at time, scraping down beaters and sides of bowl with a rubber spatula as needed. Beat in vanilla and stevia extracts.

Beat in half of the almond flour mixture, then beat in almond milk. Beat in remaining almond flour mixture until well combined.

Remove half of the batter to a separate bowl. In one bowl, mix in red gel colouring and whisk vigorously to combine. In the other bowl, mix in blue gel colouring and whisk vigorously to combine. Add more gel colouring as needed, mixing thoroughly.

Fill the holes of the prepared whoopie pie pan ⅔ full, spreading batter into the tips of the stars. Bake 10 to 12 minutes, or until cakes are firm to the touch and lightly browned on the edges. Remove and let cool for 5 minutes, then transfer to a wire rack to cool completely.

Grease pan again and repeat with remaining batter.
For the frosting:
Beat cream cheese and butter together until smooth. Beat in powdered Swerve, vanilla and stevia until smooth.

Spread 1 tablespoon of frosting on the bottom of a red star, making sure to spread to tips of star. Top with a blue star.

Refrigerate until firm, about 1 hour.
A few foodie friends that I met at Camp Blogaway are also participating in the Create a Festive 4th with Wilton event too! Won't you stop by and check out their tasty creations and enter their giveaways!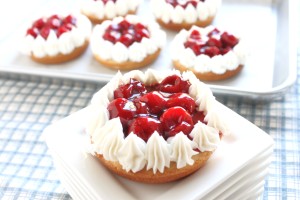 Created By Diane's Cherry Pie Cookies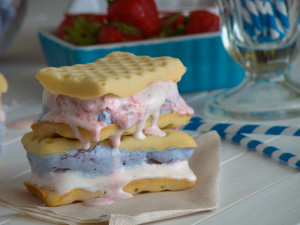 Budget Gourmet Mom's Festive Fourth Ice Cream Sandwich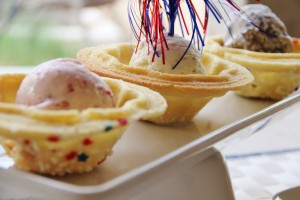 Around My Family Table's Festive Ice Cream and Cookie Bowls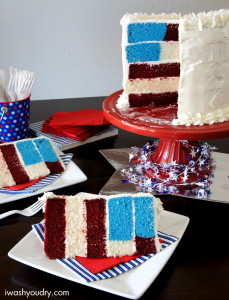 I Wash…You Dry's All American Cake