One of the advantages of aging is that the older I get, the less I worry about making an ass of myself.  That self-consciousness, that concern over what other people are going to think, seems to diminish with each passing year.  I see it as an advantage because it means I am far more comfortable in my own skin than I was as a younger woman.  My kids probably see it as a distinct disadvantage because I can get incredibly goofy and I have no qualms about embarrassing them, in private or in public.  That's what parents are for, right?  I take great delight in proving myself to be the dork I really am at heart.  It makes me laugh.  Case in point…the guest post I did for Katrina of In Katrina's Kitchen.  Go read it.  It's funny.  At least I think it's funny.  And if you don't find it amusing, at least you get a great Low Carb Sugar Cookie Bar Recipe out of the deal.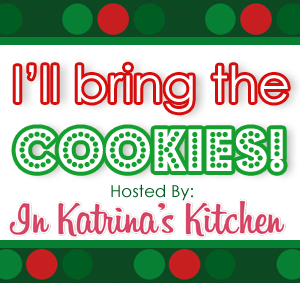 The ever-sweet Katrina invited me to be a part of her second annual "I'll Bring The Cookies" event and I knew almost instantly what I wanted to bring.  I'd seen
Sugar Cookie Bars
on Pinterest and other sites a few times and wanted to give them a
low carb, gluten-free
makeover.   These were really a simple variation on my
Low Carb Cut-Out Sugar Cookies
.  I had to double the recipe to make enough dough to press into an 8×8 pan, and I added some baking powder to help them puff up a bit and make them really soft.
They turned out perfectly, just as I thought they would.  And I learned a neat little tip for getting a deep rich red for my frosting.  Truth is, I messed up and coloured it all green before I remembered I needed some red for stripes.  So I decided to see if I could just add a few drops of red to some of the green frosting.  And for once, instead of a lurid pinky red, I got a beautiful deep red with a hint of maroon.  Keep that in mind the next time you're decorating!
Please check out the Sugar Cookie Bar recipe at In Katrina's Kitchen.
Serves 20.  Each bar has 6.1 g of carbs and 2.6 g of fiber.  Total NET CARBS = 3.5 g.
Food energy: 244kcal
Polyunsaturated fatty acids: 0.53g
Total fat: 22.44g
Calories from fat: 201
Cholesterol: 50mg
Carbohydrate: 6.01g
Total dietary fiber: 2.55g
Protein: 5.86g
Looking for some delicious Gluten Free Soft Frosted Sugar Cookies? You have to check out this version from What the Fork!