This is a Sponsored post written by me on behalf of STOLI® Vodka. All opinions are 100% mine.
It's no secret that I love a good cocktail, especially a nice refreshing cocktail in the heat of the summer. And summer cocktails don't get any easier than Vodka Lemonade. So when I was invited to check out the Stoli® Vodka Lemonade Trucks that are touring the country as part of their "100 Days To Squeeze" events, I absolutely couldn't resist. I am headed to Peabody, MA to check out the truck tomorrow afternoon and I invite you to check them out in your area as well. If you happen to be in Massachusetts, I know they have a few more stops and events over the next few days. Let's squeeze the most out of what's left of summer!
Stoli is a premium vodka with a smooth taste that pairs deliciously with the tart-sweet taste of fresh lemonade. And you can customize this simple cocktail to your own tastes. For me, that means making my own sugar-free lemonade so I can enjoy the Stoli® Vodka Lemonade in a healthier way. But it might also be fun to make it with some of their flavored vodka. How about some Stoli® Bleuberi with a few fresh, local berries thrown in for a garnish? Ooooh, I like that idea!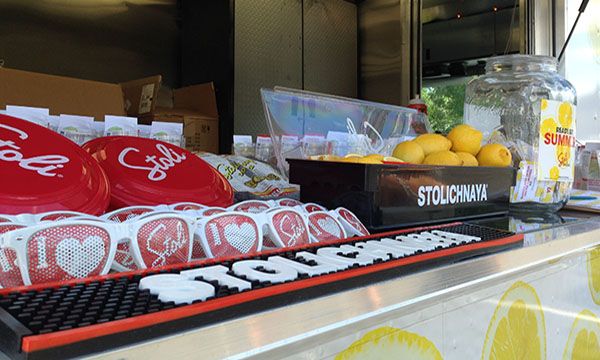 To find out about upcoming locations for the Stoli "Limo-nade" trucks or upcoming bar events, Follow Stoli on Twitter, Instagram or Join Stoli on Facebook.
And if you can't make it to a Stoli Vodka Lemonade event but want to make the cocktail at home, check out the easy cocktail recipe below, courtesy of Stoli. Use your own fresh squeezed lemonade for a really clean, fresh taste. And Stoli®  is selling some fun value-added packs at off-premise locations nationwide that include the iconic glass mason jar and a lemon squeezer, along with a 750mL bottle of Stoli® vodka.
How will you squeeze the most out of summer with Stoli Lemonade? Will you go classic or jazz it up with the flavoured variety?
Vodka Lemonade Cocktails with Stolichnaya®
A simple, refreshing cocktail using Stolichnaya® Vodka. Use your own fresh squeezed lemonade for a clean, fresh taste.
Ingredients
2

parts Stolichnaya® Vodka

4

parts lemonade of choice
Instructions
Build in an ice-filled mason jar or highball glass and stir. Garnish with lemon wheels.
 Update! 
I hit Peabody today to check out the Stoli® Lemonade truck this afternoon. Very fun, and they were giving away small samples inside the Kappy's on Route 114. I tried the Bleuberi and I am planning on making my own sugar-free version tonight!